The Klinik was
the
pioneering Belgian EBM industrial band, which consisted of, in the beginning: Dirk Ivens, Erik Van Wonterghem, and Marc Verhaegen. Erik Van Wonterghem left in 1987 and pursued other projects (Absolute Body Control, Insekt, Sonar, Monolith, etc.), while Dirk Ivens left in 1990 to form Dive. Marc Verhaegen continued on with Klinik (dropping the "The") and is still active today.
In the mid-'90s, while studying economics in Osnabrück, Arkine Demag and Nevo U-Myn also worked quietly on their music project, Paracont. "Zoom" was their full length debut. Dark straightforward electro with catchy danceable melodies and melodic sounds, yet maintains a underlying harshness throughout the smooth structure. Quality dark electro EBM for anyone in the mood for classic electro sounds.
Год
: 1989 / 1994
Страна
: Belgium / Germany
Лейбл
: New Life / Gothic Arts Records / Lost Paradise / Electric Blue
---
☼ The Klinik - Insane Terror 7''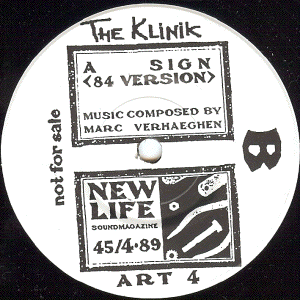 Promo released by the New Life Soundmagazine.
Содержание
:
01. Insane Terror [Never Again] (5:51)
02. A Sign ['84 Version] (3:11)
▬▬▬▬ P L U S ▬▬▬▬
☼ Klinik / Paracont - Brain / Get Out EP
Содержание
:
01. Klinik: Brain (5:24)
02. Klinik: Patient [Live] (5:46)
03. Paracont: Get Out (3:19)
04. Paracont: Statics [Woman In The Radiator Mix] (4:35)
▬▬▬▬ P L U S ▬▬▬▬
☼ Paracont - Zoom
Содержание
:
01. Zoom In (1:37)
02. D-Ranged (4:49)
03. Get Out (3:14)
04. Hallucinogenic (4:20)
05. Statics (4:33)
06. Inside (3:33)
07. Fingered (6:16)
08. Hallucinogenic [Neutral Line Mix] (4:27)
09. Zoom Out (5:45)
Скачать
: ALL 3
HERE