When I put 2 or more releases together that have no direct relation to each other, it's just because I like to............ annoy you! aaarrgghhh ;) Enjoy!
---
☼ Controlled Bleeding / Maybe Mental - Halved LP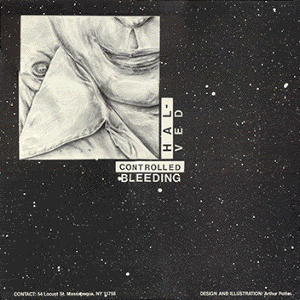 Controlled Bleeding were performing 'industrial' music long before the term became fashionable. During their formative years, the band combined the literal assault of their listeners with bruising, massive layers of screaming feedback and pure power electonics with a lighter, classically ambient softness. Throughout their mid-80's Wax Trax! work and most notably on their first Third Mind release, Controlled Bleeding became interested in a more melodic song form, while retaining their signature aggressive punch and dignified gentility.
Maybe Mental are a largely-forgotten post-industrial act from the late '80s. Likely best-known for their split 1986 LP with Controlled Bleeding, Maybe Mental were formed in Arizona in 1982 by David Oliphant. The group mined the atmospheric industrial arena as well or better than most of their underground peers. The group's interest in rich multi-cultural instrumentation and ritual textures would later play a key role in the band's transition to Life Garden.
Год
: 1986
Страна
: USA
Лейбл
: Placebo Records
Содержание
:
01. Controlled Bleeding: Untitled (3:35)
02. Controlled Bleeding: Untitled (9:20)
03. Controlled Bleeding: Untitled (2:38)
04. Maybe Mental: Drought (4:38)
05. Maybe Mental: We Walk Thru This? (2:05)
06. Maybe Mental: Wrong Wind (2:47)
07. Maybe Mental: Song For Maria (2:11)
08. Maybe Mental: 1313 A.D (1:53)
▬▬▬▬ P L U S ▬▬▬▬
☼ Cloama - Neuroscan Organization LP
Dark ambient / death industrial from STROM.ec member Jasse Tuukki. Dank, desolate atmospheres incorporating sparse vocal samples and well placed orchestral loops.
Год
: 2002
Страна
: Finland
Лейбл
: Blade Records
Содержание
:
01. Tuhkajumala (4:50)
02. Neuroscan Organization (13:39)
03. Kunnes Kaikki Tuntuu Turhalta // Säälimätön Valhe (13:33)
04. Final Monument (3:37)
Скачать
: BOTH
HERE